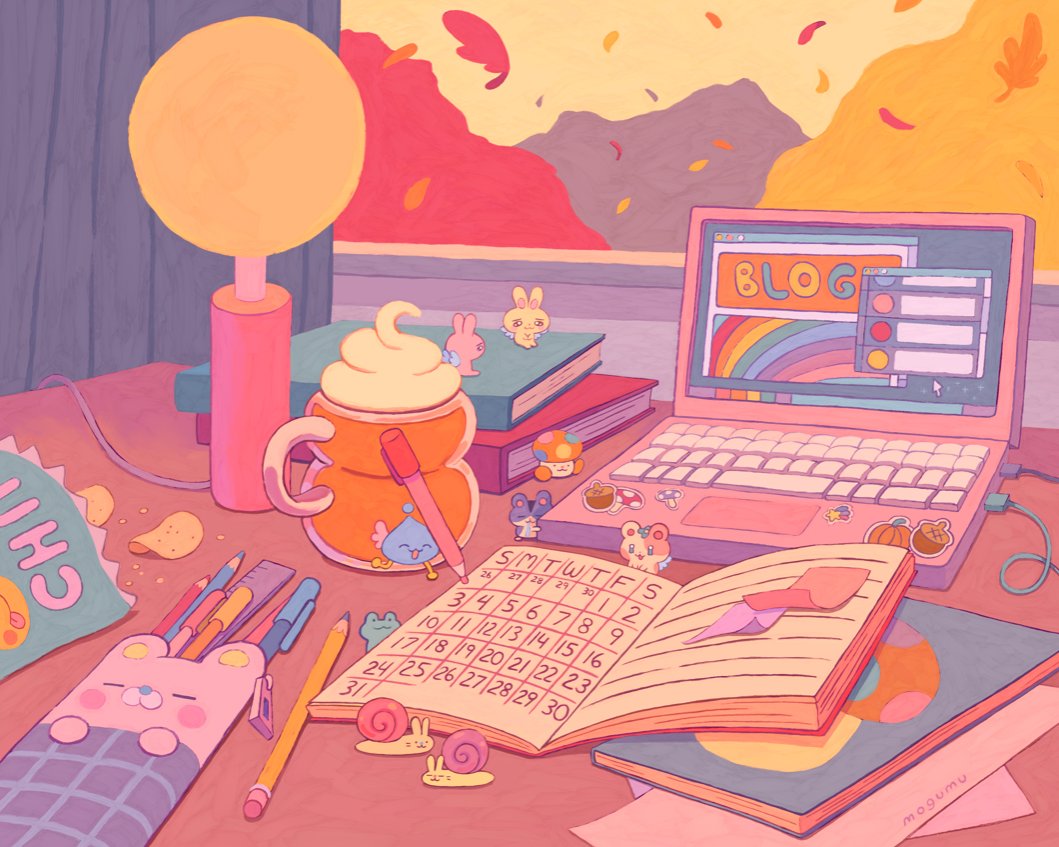 A TORONTO-BASED CREATIVE BRAND: MOGUMU
Mogu-who?
Who, or what is "Mogumu"? In a literal sense, they're two words from the Mandarin language, meaning "mushroom" (mogu), and "clover" (mu). For Toronto-based illustrator and animator Michy Soong, it's the name of her brand, which has grown and changed with her for over 8 years. Michy is a friend of mine who I've known for even longer than her brand has existed. Since we've met, I've never known a day where I've seen her without a sketchbook and pencil in hand. (Though nowadays, it's an iPad Pro and an Apple Pencil.) I've witnessed her at the start of her career, studying at Sheridan College in its prestigious animation program, to owning and operating her very own creative brand, Mogumu.
Past
Mogumu was known as "Punimelt" up until a recent change in the Fall of 2021. The older name encompassed Michy's passion for cute and soft things, with "puni" being a Japanese onomatopoeia for a squishy, fluffy, and/or gummy feeling. After almost a decade of being known as Punimelt, she began to feel disconnected and uninspired, so she decided to go through with a brand name change in hopes for a fresh start.
Present
Michy creates various products for the creative brand, including plush toys, stationary, apparel, and more. In addition, she has a Patreon account where her subscribers are mailed sticker sheets, enamel pins, and given access to PDFs of her new sketches and illustrations every month. She has steadily grown a following of over 42,000 followers on Twitter, and more than 39,000 followers on Instagram (as of February 6, 2022), and the numbers will only increase as her art reaches more people around the world.
Interview
I reached out to Michy for a couple of questions about Mogumu:
Q: What was the inspiration behind the name Mogumu?
A: "I spent a lot of time thinking about what name felt like me. I didn't want something super cute if that makes sense. Mandarin was my first language so I thought it could be nice to work with that for my name. Words based on nature, life and plants felt right for me. I combined mogu (mushroom) and mu (clover) together. I've always liked doodling mushrooms and clovers and the words in Mandarin sounded nice and simple to say."
Q: What do you find is most rewarding about making art for the creative brand, Mogumu?
A: "I like being able to create a little personal world to immerse myself in. It's like a collection of things or creatures that I thought of, designed, and enjoy. It's really nice to see people enjoy them too. It feels like a small way to communicate. The art I make can become different things, from illustrated prints to hang in homes, apparel, and accessories to wear, stationery, stickers, plush toys, artbooks and more.
Q: "Are there any challenges you've been facing recently with Mogumu or your work?"
A:" It's difficult especially right now during the pandemic and the winter, to find inspiration. It takes me a longer time to think of ideas that I like. I think my main challenge is finding time and balance for my life. I run and manage my online shop, patreon, social media, emails, and customer service. It's difficult to make time to design and order new merchandise on top of handling current tasks."
Q: Any future plans or dreams you have for the brand?
A: "I plan to give my online shop a big makeover! I want to make plush toys this year and vinyl toys down the road. I would also love to collaborate more with other friends & artists to make things together. As for dreams, my dream is to create a pet game that you can play on your phone or computer."
Conclusion
Michy's art has always evoked a gentle sense of nostalgia within me – perhaps because I've basically grown up with it. However, as many years as I age, her art always brings me back to my childhood, and its charm continues to inspire the same feelings within thousands of people all over the world. You can check out Mogumu and some of her works below: